Rifle Section Page:
1 | 2 | 3 | 4 | 5
These rifle parts represent the epitome of 18th century rifle making technology. In addition to being authentic in every aspect, the parts benefit from the latest in 20th century technology in the quality of materials and workmanship.
Tools needed for assembly include standard screwdrivers, small flat chisel, hand drill and bits, fine wood rasp, assorted files and sandpaper.
Buckeye Barrels, LLC is now our exclusive barrel supplier. Buckeye Barrels is located within Jim Chambers Flintlocks' workshop so your entire kit order can be placed at one time and the availability of all your order determined immediately.
Buckeye Barrels, LLC carries all barrels to fit our kits from the following barrel makers: Rice Barrel Company, Long Hammock Barrels, and W.E. Rayl, Inc.. Buckeye Barrels is also in the process of building an inventory in an effort to try and reduce the long wait times currently experienced when ordering. If you desire a specific maker, please call for availability prior to ordering otherwise your barrel may come from any of the four companies.

Barrels
All barrels are top quality and traditionally styled. All barrels are swamped (tapered and flared) with round groove. The barrel tenons and the front sight dovetails are already cut. The barrel comes with the breech plug installed and an extra long tang for you to shape or shorten to your preference.

All locks are designed and produced by Jim Chambers from high quality carbon steel. These locks are designed to have that much sought after English lock feel and action. Each lock is precision assembled and all parts are heat treated for long, reliable service.

Stocks
We use quality northern curly maple with figure throughout the stock. If you prefer an even fancier piece of wood we can provide that at additional cost, or we can use your wood at a discount. Walnut or cherry wood is also available, and most stocks can be ordered with an optional sliding wood patchbox. We maintain an inventory of 50-70 stocks at all times.

The hardware is designed and manufactured exclusively for these rifles out of soft yellow brass--no hard-to-work bronze as is used in other rifles. The parts package comes with all screws, pins, rivets, springs, etc., required for assembly. We also offer an optional finishing kit that includes stock stain, stock finish and browning solution.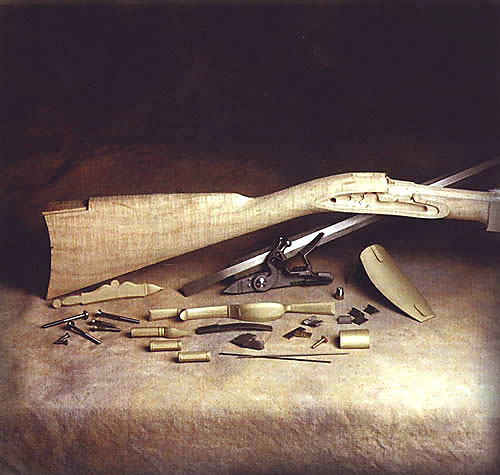 The following pages showcase ten rifle models to choose from.
RIFLES page: 1 | 2 | 3 | 4 | 5