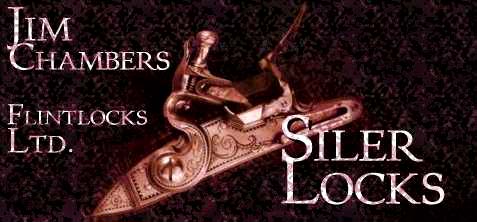 Lock Section Page:
1 | 2 | 3 | 4 | 5 | 6

Around 1960 C.E. "Bud" Siler made the first Siler lock by copying a pristine Germanic style lock produced around 1770. From that first effort grew a business that continues to this day to set the standard by which all other locks are judged.
On December 16, 1993 after thirty plus years of superb service, Mr. and Mrs. Siler retired, and Siler Lock Company was sold to Jim Chambers Flintlocks, Ltd. It is our intent to continue supplying gun builders with the same high quality products and services they have grown to expect from the Silers. In addition, we will introduce new locks and continually strive to improve the quality of our products.
Siler locks are well known for their reliability and overall quality. When there is a need for a lock that will give years of trouble-free, dependable service, the only choice is Siler.
We guarantee any castings we sell to be free of defects. We will replace, free of charge, any broken spring that is returned to us. Any lock that we assemble is guaranteed for the life of the original purchaser. Your only cost is the postage to return the unsatisfactory part or lock to us for repair or replacement. The only parts we cannot guarantee are the ones which have been altered or abused. We always welcome your suggestions, comments, or questions.

Assembled Locks
Jim Chambers Flintlocks, Ltd. is proud to offer precision assembled locks for the discriminating gunbuilder or shooter who desires a lock which is a cut above other available locks. Each lock is carefully assembled from the finest carbon steels available and is heat-treated for long, reliable service. All bearing surfaces are polished. Tumbler axles are lathe-turned to exacting dimensions. All bearing holes are drilled undersize and then reamed for extra smoothness. All locks include a fly in the tumbler for use with set triggers. We offer a money-back guarantee if not 100% satisfied.

Lock Kits
The locks that are available in kit form come with complete assembly instructions, including heat-treating instructions that are geared toward the home workshop. All holes to be drilled in the plate are spotted. Drill guides are included to aid you in the accurate location and drilling of the bridle. All springs included in the kit have been professionally hardened and tempered and have been pre-tested. All parts are made of high quality carbon steel designed for relative ease of machining while giving years of tough, wear resistant service when properly heat-treated. Every effort has been made to supply you with the highest quality parts that, when properly assembled, will give you the very best lock available today.

The next five pages contain pictures and descriptions of all the locks we distribute.
For a Price List, click here.
LOCKS page: 1 | 2 | 3 | 4 | 5 | 6