Parts, Tools, Accessories, and Media

Finish Kit
The above products can be purchased together as a kit or individually. The stain is a non-grain raising type stain with a golden, reddish brown color specially blended for us to duplicate the color on many old guns. The finish is an oil finish that has received much praise from everyone who has tried it. The browning solution is the best we've ever used. There is enough material in each can to do at least two or three guns. Shipped via UPS only.
Complete Kit: #FK
Stock stain Only: #FK-S
Browning Solution Only: #FK-B
Stock Finish Only: #FK-F

Adjustable Brass/Steel Powder Measure

Adjustable from 40 to 100 grains.
#BPM

Brass Patchbox Kit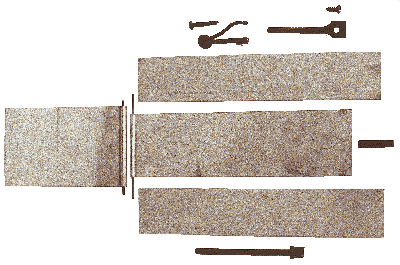 Includes latch with instructions.
#BPBK

Davis Set Trigger

Double set - Double action. These triggers are special made for us by Davis with taller striking bars for easier installation in our rifles or others. #DST-04
Siler Set Trigger

These Double set-Single action triggers were made, but never marketed by Bud Siler. They are ideal for target rifles, especially chunk guns.#DST-01

Combination Tool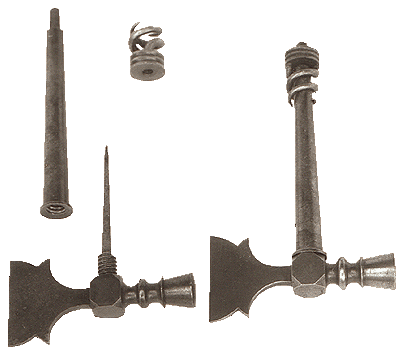 Copied from an old tool. Includes pick for touch hole, screw off worm for ramrod, hammer for knapping flint, and screwdriver blade for changing flint. These are hand-forged, hardened and tempered.#CT

Sling Swivels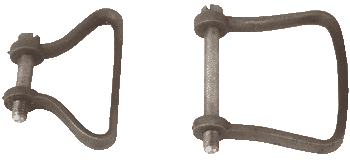 Front swivel attaches through forestock and an underlug on the barrel. Rear swivel can be attached to the trigger guard or a stud screwed into the stock behind the guard. #SS

"White Lightnin'" Touch Hole Liners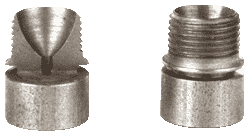 (left photo is a cutaway view of the White Lightin' Touch Hole for illustrative purposes only!)
If you haven't tried this new touch-hole you are in for a treat. We are confident this touch-hole will improve your ignition time by 100%. A quick lock that produces a good shower of sparks is important, but even more important is how quickly the flash is transferred to the main charge. Our touch-hole, with its large cone brings the main charge to within a few thousandths of an inch of the pan flash for a virtual instant ignition. The following letter is typical of the many responses we've had to this product.
"They work great! My .40 was a little pokey, but now it goes off like a caplock. Please send me a half dozen more of the liners. I had a gunsmith put the liners in for me. He was so impressed he asked me to order two for him."
Available in two sizes:
3/8" x 32 for 1 1/16" or larger barrels #THL-01
5/16" x 32 for 7/8" & 1" barrels #THL-02
1/4" x 32 for 7/8" and smaller barrels #THL-03
We also have drill and tap sets for these:
3/8" x 32 tap and Q drill #TAP-1
5/16" x 32 tap and I drill #TAP-2
1/4" x 32 tap and 4 drill #TAP-3

Accralube & Accragard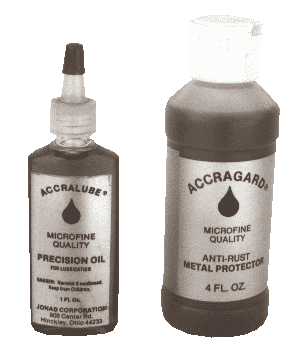 Accralube is an extremely pure, high-grade oil that pours freely at -50°F and is nongumming at high temperatures. It resists displacement from high pressure on contact surfaces such as sear and mainspring engagements and tumbler contact areas. In other words, this is a great oil that will keep your lock working freely and smoothly in all weather. Accragard is absolutely the best bore protector we have ever tried. With Accragard in your barrel you can forget about any rust.
Accralube: #AL
Accragard: #AG

Mainspring Vise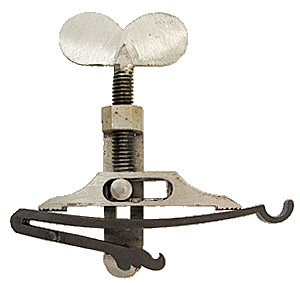 The mainsprings for the large and small Siler locks can be removed/installed with pliers. That, however, is not the case with our other springs. Those MUST be removed/installed with a good quality mainspring vise. To use, apply the vise as shown and tighten just enough to allow the spring to slip in or out of the lock. #MSV

Brass Patchbox Kit
(with domed lid)
#BPBK-DL

Fancy English Fowler Parts

As an option for our English Fowler rifle kit, we offer a sculpted sideplate and thumb piece (wrist inlay). Available in Brass, Steel, or Sterling Silver; and as a set or individually. As these parts are investment cast, they are very smooth and require very little polishing. Designed by Bob Harn, these offer a quick way to dress up our English Fowler kit or your own custom gun.
#ENG:SP
#ENG:TH

Ron Ehlert/ American Pioneer Video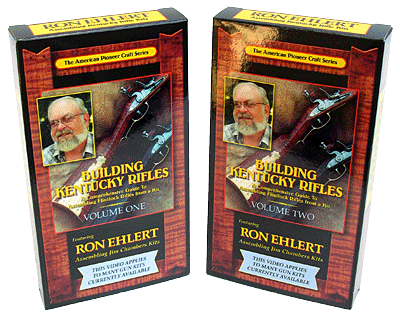 In this two-video set, gunmaker Ron Ehlert assembles and finishes two of our York rifle kits. One is made with a sliding wooden patchbox, the other with an engraved brass patchbox. One with double set triggers, the other with a single trigger. There is much close-up detail shown that applies to gunmaking in general, not just to our rifle kits. Available on DVD only.
#RE

J. Chambers Rifle Kit Assembly (DVD)
Video by Jim Turpin. Do you need a little help assembling your rifle kit? Or, do you just want to see what is involved in building one of our kits before you make the plunge? Our video starts with opening the box of parts and shows you step-by-step the entire assembly and finishing process.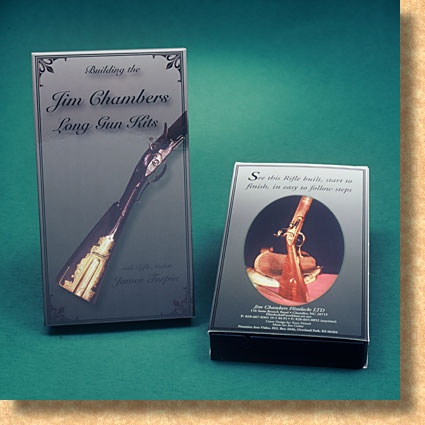 #VIDEO

For a Price List, click here.