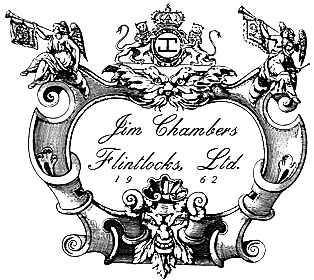 Rifle Kits
For over forty years, Jim Chambers has designed and produced some of the world's finest rifles. His work has been featured in numerous magazine articles and the Foxfire V book. Now you too can create a beautiful rifle!
We offer barrels for our kits from three of the best barrel makers in the industry: Rice Barrel Co., Long Hammock Barrels, and W. E. Rayl, Inc. The barrels offered are regarded as top of the line and are the barrels of choice for the vast majority of custom gunmakers.
Our stocks are produced by Bob Lepley, owner of L&G Woodcarving. His pre-carved stocks set the standard for the muzzleloading industry. The combination of these companies give you rifle parts ready for assembly and finishing for a lifetime of enjoyable and reliable service.

New Kit! - The Little Feller's Rifle - New Kit!
circa 1770-1790
Model RK-13

click image

to enlarge
Our new addition to the Chambers kit line in 2008 is the Little Feller's Rifle. Originally created by Master Gunsmith David Dodds of Selingsgrove, PA, this smaller rifle is perfect for smaller folks.
Fashioned after a Pennsylvania style Berks County rifle, it also incorporates just a little bit of a York Country flare. The cheek piece is rounded and slightly longer than those of our other rifle kits.
It is the first in the Chambers line of rifle kits to utilize a Deluxe Siler Flintlock giving it the highly sought after speed and precision that shooters prefer. It can also accommodate a Large Siler Percussion for those who find a cap lock more to their liking.
The Little Feller's rifle has a 34" long custom made premium swamped barrel produced exclusively by Rice Rifle Barrel Co. in 40, 45, and 50 calibers, helping to make it a light weight and quick handling rifle.
Originally purchased as a rifle that would fit the up-and-coming youth population from about 7 years of age on up, it has turned out to be a far more versatile piece. Ladies and gentlemen of heights 5'7" or shorter have found this gun to be a perfect fit. Plus, with its light-weight barrel many of our well-experienced gentlemen who no longer want to haul around a heavy rifle but still want to take a muzzleloader out in the woods for a day, find it to be just what they want. With its shorter trigger pull, it also makes a great winter hunting rifle for anyone and will accommodate a warm thick coat on those cold days.
From squirrels to deer and everything in between, this little gun is just the right size.
Stock Dimensions:
Trigger Pull: 13"
Drop At Heel: 2 1/2"
Butt Width: 2"
Drop At Comb: 1 1/2"
Butt Height: 4 1/2"
Overall Length: 48 3/4"
Weight in 45 cal.: 7 lbs.
Lock: Deluxe Siler

Barrel Dimensions:
34" tapered and flared barrel
Breech: 1"
Small: 11/16"
Muzzle: 13/16"
Rifling: round groove .018 deep
Calibers: 40, 45, and 50

Gun Locks
In addition to Rifle Kits, we supply flint and percussion locks to the majority of custom gun makers, to other companies specializing in black powder guns, and to individuals who want the very best lock for their rifle. We offer sixteen different locks covering the period from 1740 to 1840. All sixteen lock models can be purchased from us completely assembled and ready to use, and eight of the sixteen can also be purchased in kit form for those who like the challenge of assembling their own lock. Whether assembled or kit, our locks are the standard by which all other locks are judged.

Catalog
If you would like a printed catalog, please send a check, money order, or cash for $5.00 to the address below. You may also phone or fax a VISA or MasterCard number.
Jim Chambers Flintlocks, Ltd.
116 Sam's Branch Road
Candler, North Carolina 28715
ph. 828/667-8361 (Mon-Fri 9 AM-5 PM)
fax 828/665-0852 (anytime)
chambers@flintlocks.com