U

Our Price List and Ordering Instructions

V

(Effective May 1, 2010 - Prices subject to change without notice)

NOTE:

indicates PDF document download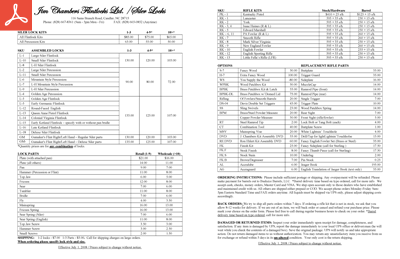 Ordering Instructions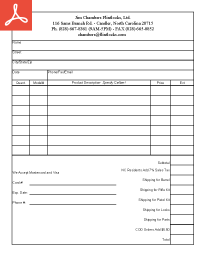 Please fill out our order form making sure to include sufficient postage or shipping. Any overpayment will be refunded. We accept cash, check, money orders, MasterCard and Visa. We ship on open account only to those dealers who have established and maintained credit with us. All other orders are shipped either pre-paid or COD. We accept phone orders Monday-Friday 9 AM to 5 PM and FAX orders anytime. All liquids are shipped UPS only.
Rifle Kit Orders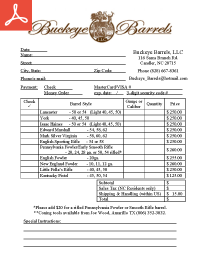 To save our customers the added expense of an 11% excise tax due on all complete kits that include the lock, stock and barrel, we ask that you purchase a barrel for your kit directly from Buckeye Barrels, LLC.
A PDF order form with the prices is included for your convenience here. Please check the appropriate barrel, state the caliber, and mail the form along with your payment or credit card information to the address on the form (Buckeye Barrels is located within Jim Chambers Flintlocks shop, so both orders can be placed at the same time!)
Any delivery time, load maximums, or barrel specification questions should be asked of the barrel maker. However, we will gladly answer any technical questions relating to our kits.
Thank you for your understanding in our order process changes. Please don't hesitate to contact us with any further questions.
Back Orders
We try to ship all parts orders within 7 days. We ask that you allow 8-12 weeks for the lock, stock, and hardware. If ordering a rifle kit that is not in stock, we ask that you allow 8-12 weeks for delivery. Please mark your choice on the order form. Please feel free to call during regular business hours to check on your order. *Barrel delivery time based on type ordered, call for more info.
Damaged or Returned Items
Inspect your order immediately upon receipt for damage, completeness, and satisfaction. If any item is damaged by UPS, report the damage immediately to your local UPS office or deliveryman (he will wait while you check the contents of a damaged box). Save the original package. UPS will notify us and take appropriate action. Do not return damaged items to us without authorization. You may return any unsatisfactory item you receive from us for exchange or refund within 5 days in its un-altered condition. Your only cost is the return shipping.
Catalog
If you would like a printed catalog, please send a check, money order, or cash for $5.00 to the address below. You may also phone or fax a VISA or MasterCard number.